The 3792 (5V) and 3793 (12V) e-latches incorporate a range of innovative features. These include both key and mechanical cable override of the electronics, a floating door strike/bolt system to accommodate mis-alignment over time, and a precision motor driven latching mechanism with excellent operation even under load.
These latches have been designed for easy connection and control and include an internal sensor for feedback on whether the door is closed. They have a push-to-lock action and on latch release will pop the door slightly ajar. For greater door movement a spring-loaded plunger is available as a replacement for the mechanical key override system.
The latches are supplied with a door mounted striker bolt (customer to specify flush fit or 2mm stand-off) and come with a 2, 4 or 6 meter cable (customer to specify)​.
Rigorously tested for durability and reliability, these latches are ideal for use on a wide variety of applications such as personal lockers, postal and delivery systems, asset management systems and other enclosures.
Download our Technical Data Sheet or see Standard Features and Additional Details for further information.
Looking for a complete system? We can provide you with an entire Connected Locking System including touchscreen interfaces, software, and latches. Visit our website for further information or contact us today on +1 (616) 994 0490.
Standard Features
Rugged cast alloy construction
Compact size (70 high x 80 long x 20 thick)
Two, Ø4 attachment holes
Plug-in connection
Easy connectivity
Optional mechanical cable over-ride
Mechanical 10-disc key over-ride (1 key per 50 locks)
Removable over-ride lock cylinder
Ball ended, safe striker
Floating striker attachment allows for door misalignment
Wide tolerance striker socket
On-board intelligence - Easy control options
Door closed feedback (When locked)
Technical Data
Interface: JST – S6B – PH – SM4 – TB
Mechanical lifespan: 60,000 cycles
Dimensions: 70 x 80 x 20mm
Pull out force: 3000N
Maximum load for electronic opening: 150N at 5V and 12V
Housing material: Zinc alloy
Weight: 350g
Operating temperature range: -10 to +50 °C
Standby current: 1.4mA
Maximum current draw: 300mA
Electrical Information
The latch input and outputs connect directly to an on-board microprocessor (uC). There is one input to specify lock/unlock (2). This is internally pulled up. When it is connected to VCC (1) or left unconnected the latch will be locked. The latch will unlock when lock/unlock (2) is pulled low (connected to ground) for longer than 10ms.
There are three outputs that indicate the status of the latch. The presence of a latch is indicated by a low signal on the latch present output (3).
The locked status (4) indicates whether the latch is in the locked position (high) or not (low). When this output is high the latch internally is in the locked state. If the door is still open, it will be locked shut when it is next closed.
The latched status (5) indicates whether the striker bolt is latched into the lock (high) or not (low). This identifies whether the door is shut and locked or not. If the latch is unlocked (see above), the latched indicator will always be low.
Connection Diagram

Male Connector
MPN
JST, PHR-6
Pin
Description
1
+5V or +12V
2
In – lock/unlock
3
Out – latch present (active low)
4
Out – locked (active high)
5
Out – latched (active high)
6
Ground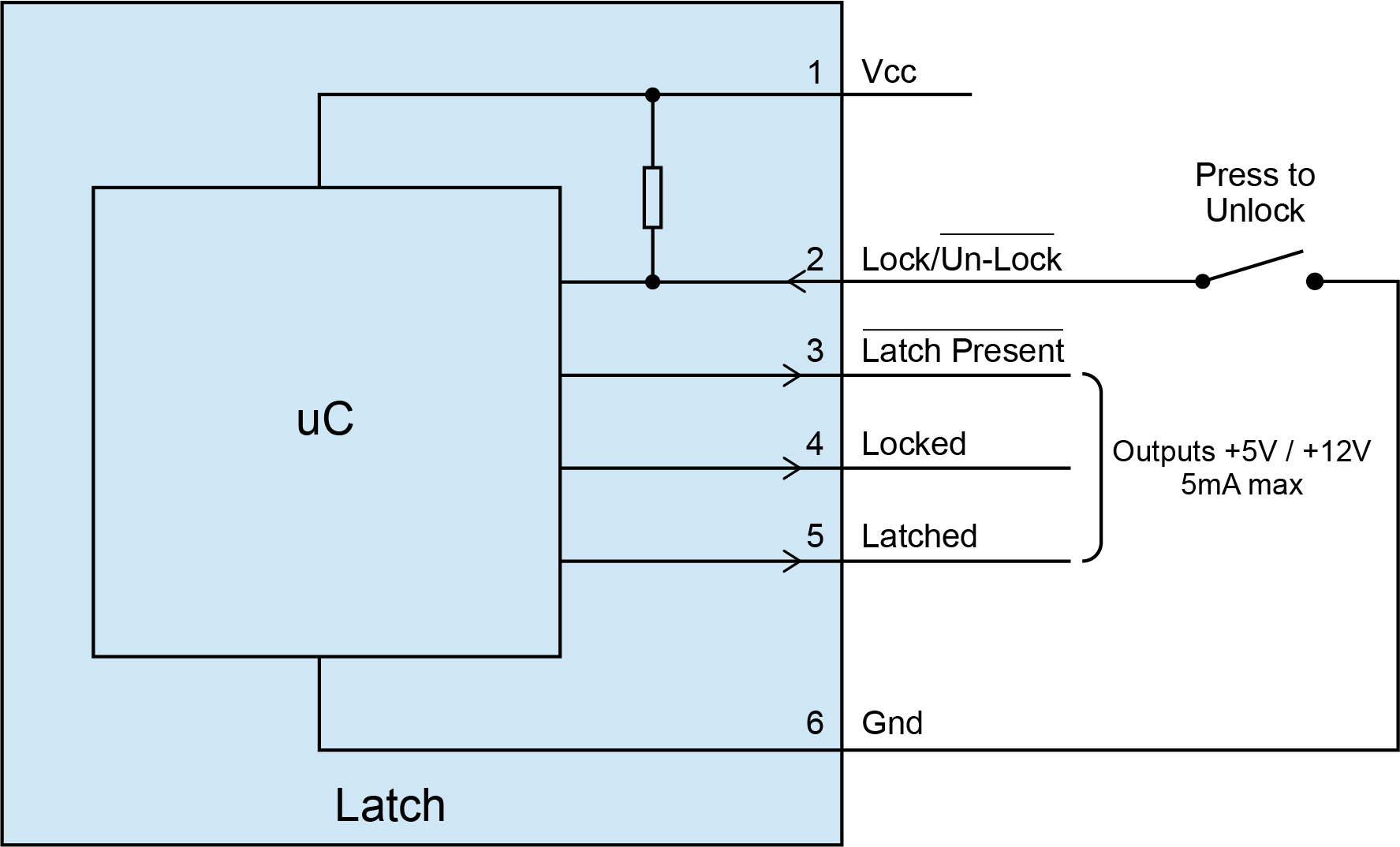 Timing Diagram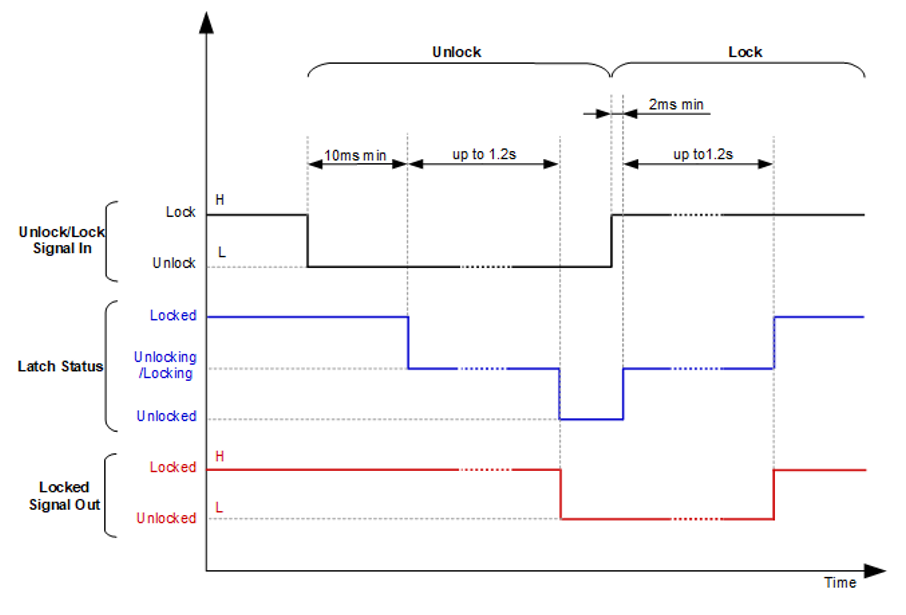 Accessories
| | |
| --- | --- |
| Product Code | Description |
| 37928K | 5V Latch (Silver Electrophoretic) |
| 37938K | 12V Latch (Silver Electrophoretic) |

Optional colours available upon request

| | | |
| --- | --- | --- |
| Product Code | Description | 'X' Dimension |
| 9519010 | Striker assembly (flush fit) | 20mm |
| 9519011 | Striker assembly (2mm stand-off) | 22mm |

| | |
| --- | --- |
| Product Code | Description |
| 9235435 | Plug (barrel replacement with anti-drill pins) |

| | |
| --- | --- |
| Product Code | Description |
| 9519013 | 13mm Spring Loaded door plunger (Replaces Barrel Override) |

| | |
| --- | --- |
| Product Code | Description |
| 9560520 | 2 Metre Cable |
| 9560540 | 4 Metre Cable |
| 9560560 | 6 Metre Cable |


NOTE: All cables have male connectors both ends

| | |
| --- | --- |
| Product Code | Description |
| 9300124 | Extra extended Override Key |


NOTE: One per 50 locks/order as standard
---